Get Help With Your Fire Damage Insurance Claim
Fire departments responded to a fire every 25 seconds, and a structure fire every 65 seconds in the United States.
In 2013, home structure fires caused 83% of the civilian fire death and 78% of the civilian fire injuries.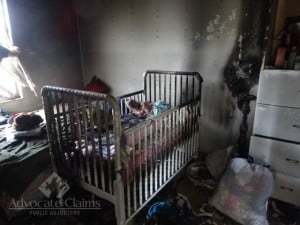 The major causes of home fires are:
Cooking equipment
Heating equipment
Electrical problems
Lightning
Smoking
Clothes dryer or washing machines
Exposure to other fire such as candles
Children playing with heat sources.
Kitchens are the leading area of origin for home structure fires.
Of course preventing fires in the first place should be everyone's priority. The best way to prevent a home fire injury or death is to invest in smoke detectors and fire extinguishers.
In the event of a fire the best investment you can make is to call Advocate Claims Public Adjusters. We will guide and assist you through this tragic life event.
Reduce stress by putting our expertise to work for you? As a fire insurance claim expert we understand what is required by your insurance company to properly and quickly help you get your life back together.
Don't be a victim twice. We can help!
NO RECOVERY – NO FEE
Residential Testimonials
Business and Professional Testimonials
Call Today Before You File Your Florida Insurance Claim
954-369-0573
No Obligation Initial Consultation
Empowering YOU the Policy Holder