Public Adjuster in Davie, Florida
Advocate Claims is a licensed Florida Public Adjuster serving Davie and beyond in South Florida.
We help home owners and business owners get a better settlement for their property insurance claim to ensure that they have enough money to pay for the repairs to their property.
With over 20 years of experience as a public insurance adjuster, we are skilled at documenting your claim, appraising the damages and negotiating a better settlement with your property insurance company.
Call us first, before you call your insurance company, and gain the advantage from the start, you'll be glad you did. Your insurance company's goal is to limit the amount of money they pay out on claims, so it is their best interest to reduce the amount they pay you for your damages. We understand what your policy actually says you are covered for, and how to present a fully documented estimate to get you paid fairly.
Advocate Claims handles all types of property damage insurance claims including
From broken pipes, A/C Leaks, sewage backups and vandalism, to trees falling on houses and cars driving in to houses, we've seen it all, and we're here to help you.
Free Damage & Claim Review
No Recovery, No Fee
If we fail to recover a settlement for you, there is no charge.
If we don't collect a dime, you don't pay a dime.
We've helped home and business owners across Davie including communities such as:
Arboretum
Arrowhead
Blackhawk Ranches
Camelot Estates
Crystal Grove Estates
Emerald Springs Estates
Forest Ridge
Grand Oaks
Grove Creek Ranches
Highland Ranch Estates
Imagination Farms
Lake Estates at Rolling Hills
Laurel Oaks
Long Lake Estates
Majestic Groves
Mystique Estates
Northstar Estates
Oak Hollow Estates
Oak Park
Orange Tree
Riverstone
Scarborough
Shenandoah
Stonebrook Estates
The Ridge on Nob Hill
West Ridge
Woodbridge Ranches
Insurance Claims Handled in Davie, Florida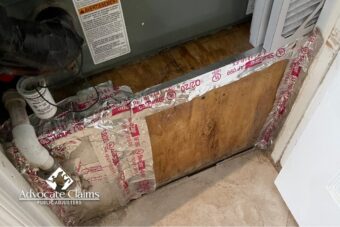 Water Damage from A/C
In this water damage claim in Davie, Florida. Water leaked from the Air Conditioning under the tile floors around the whole front of the home. The water damaged the living room, office & closet, guest bathroom, front bedroom and closet, linen closet and a/c closet.
Davie, Florida 33330
Call Today Before You File Your Property Insurance Claim in Davie, Florida
954-369-0573
No Obligation Initial Consultation
Empowering YOU the Policy Holder