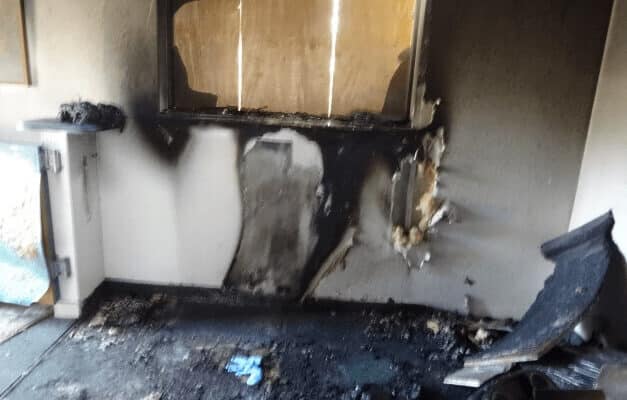 Fire Damage from Arson: Michael's Story
According to the Federal Bureau of Investigation, arson is defined as "any willful or malicious burning or attempting to burn, with or without intent to defraud, a dwelling house, public building, motor vehicle or aircraft, personal property of another, etc."  The FBI reports that over 50,000 arson incidents are reported each year in the United States, and many more go unreported or unidentified.  Michael was one of these statistics.
Michael owns and manages several properties in Florida.  One evening, one of his properties experienced a break in, in which the property was robbed.   The unidentified assailant then ignited a container of accelerant, which quickly ignited a fire.  The space was leased to a vehicle repossession agent, which was possibly the cause of the bad blood.  Michael, being the owner, simply held the paper on the property and was about to experience the hazards of such a misdirected attack.
Because two crimes were committed at the property, the fire damage claim process itself had become more complicated for Michael.  Michael experienced delays in receiving his claim from the start. His insurance company requested the official Fire Marshall's report (which normally takes several months to obtain) before they would reach any kind of settlement.  Once the report was finally received by the insurance company, they not only offered a settlement that was less than the cost of remediating the property, they also made Michael suffer several months of lost rent from the period of time the insurance company had taken to deliver the insufficient settlement!  It had seemed that Michael's luck had gone from bad to worse.
Michael then contacted Steven at Advocate Claims Public Adjusters to see if it would be possible to reach a fair result from the insurance company.
"At that point, I didn't have much confidence in the insurance company coming back with a fair settlement.  The system seemed broken to me" said Michael.
Steven was able to quickly assess the damage, both physical and fiscal, meaning he not only evaluated the loss to the property, but also the loss that Michael had experienced as a result of the fire, particularly the lost rent.  After negotiating with the insurance company, Steven reached a result that covered the TOTAL LOSS that Michael experienced.
"This was the best result possible" said Michael.
To learn more about how a public adjuster can add a great deal of value to your insurance claim, contact Steven Venook at Advocate Claims Public Adjusters at 954-369-0573 or email him at info@advocateclaims.com