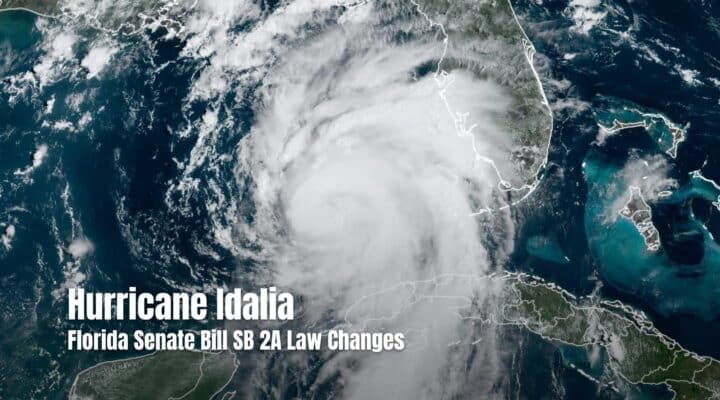 Hurricane Idalia – Summary of 2023 New Florida Insurance Law Changes
As Hurricane Idalia is set to make landfall in Northwest Florida on Wednesday, August 30, 2023, it's a crucial time to update our blog followers on recent legal changes that will impact the handling of insurance claims for property damage.
 Under the new Senate Bill SB 2A that Governor DeSantis signed into law, the following law changes took place:
Eliminates one-way attorney's fees. This means attorneys cannot get paid by the insurance company, and the policyholder will be responsible for their own attorney fees.
Removed Assignments of Benefits (AOBs): This means contractors, roofers, tarp companies, mold companies, etc., can not step into your shoes and take over your claim. This also means the policyholder will ultimately be responsible for all fees.
Arbitration: Allows for mandatory binding arbitration clauses in Florida Insurance policies. This can be very costly for the policyholder.
Reduced the claim filing deadline: Policyholders now only have one year to report their new claim instead of two years.
Reduced reopened claim deadline: Reopened claims are reduced from 3 years to 18 months for a supplemental claim.
Effective March 1, 2023) as follows:
Reduces the time for insurers to pay or deny the claim from 90 to 60 days. The new law allows the Florida Office of Insurance Regulation (OIR) to extend the 60-day period up to 30 additional days.
Reduces the time for insurers to review and acknowledge a claim communication from 14 days to 7 days.
Reduces the time for an insurer to begin an investigation from 14 days to 7 days.
Reduces the time for an insurer to conduct a physical inspection from 45 days to 30 days.
Requires insurers to, within 7 days of assigning an adjuster, notify the policyholder that he or she may request a copy of any detailed estimate of the amount of the loss generated by an insurer's adjuster and send any detailed estimate of the amount of the loss to the policyholder within 7 days after the insurer received the request, or 7 days after the detailed estimate of the amount of the loss is completed.
Requires that the insurer's claim records include various parts of the claim investigation and their dates.
Provides that the "prompt pay" requirements are tolled:

While waiting for a settlement of certain alternative dispute resolution procedures.

Mediation is a non-binding method to resolve a claim dispute for underpayment of the claim. Not for the denial of coverage.
Appraisal is a form of (ADR) alternative dispute resolution when the policyholder and insurance company do not agree upon the value of the damages. To learn more, go to Florida Insurance Claim Appraisal Website
What do these law changes mean to you?
Navigating insurance claims for a fair settlement is poised to become increasingly challenging due to these legislative updates. While at first glance, accelerated payment requirements may appear to favor Florida policyholders, the situation is more nuanced.
The elimination of attorney fees can actually make it significantly more expensive for policyholders to pursue legal action for the enforcement of these new rules. Moreover, the updated laws make it considerably more difficult to win a bad faith claim. Given these factors, it's doubtful that Florida Insurance Companies will prioritize the interests of their policyholders under this new legal framework.