Result from Water Damage in Boynton Beach FL: Janet's Story
Water damage affects thousands of homes, nationwide, each year.  Janet of Boynton Beach, Florida recently engaged Advocate Claims' Public Adjusters for her water damage insurance claim.
"Our jacuzzi tub had leaked which went unseen for a period of time.  With water and mold damage to the floor and subflooring, the master bathroom, master closet and master bedroom were ruined. Our insurance company offered us $6,100, which would not fully cover the repair."
Janet had initially hired a water extraction company to remove the water from her home.  The company referred her to a mold restoration company to determine if there was mold in her home, as a result of the water damage.
Both companies put their own interests ahead of hers, as the water extraction company overcharged her and her insurance company for their service bill.
"The claim process was arduous to say the least" said Janet. "After researching our options and our dissatisfaction with the insurance company, I received a recommendation to speak with Steven.  He was able to act as an advisor and orchestrate every step of the process.  We learned what a fair assessment of the damage was and were quickly on the way to getting our water damage remediated. "
Advocate Claims' Public Adjusters started the process with a new investigation and determined that the initial mold investigation was poorly done and missed identifying the true source of the mold.  Additionally, the company did not identify a large area of damage. Due to the water extraction and mold restoration companies overcharging for their services, the insurance company felt that they had paid sufficiently to remediate the issues; however, this was not the case.
Once a proper and thorough investigation was completed by Advocate Claims' Public Adjusters, a new and proper estimate was developed to show all of the damages that truly existed in Janet's home.  Through extensive negotiation with the insurance company, Janet's claim was increased from $11,000 to $30,000; which allowed her to properly repair the damages and return to a sense of normalcy after her loss.
"I don't know where I would be without Advocate Claims Public Adjusters" she said. "Without their help we would have spent thousands of dollars out-of-pocket to make this right. I can't recommend Steven and his team strongly enough to help look out for YOUR interests."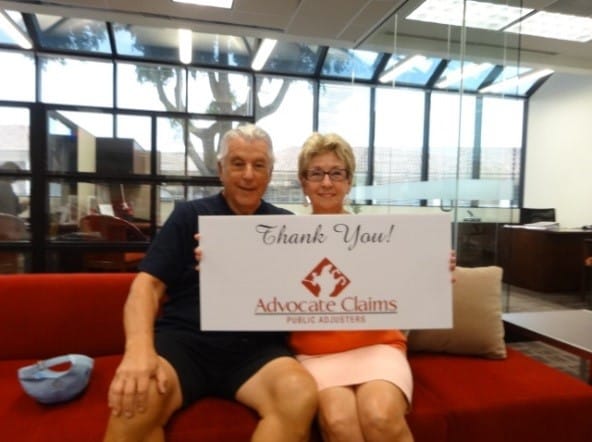 Regardless of the size of damage or type of loss you have recently suffered, Advocate Claims can help. Our licensed public adjusters have been assisting home and business owners for more than 10 years.  If you recently suffered water damage and need help filing an insurance claim, Advocate Claims can help. Give the public adjusters at Advocate Claims a call today at 954-369-0573.