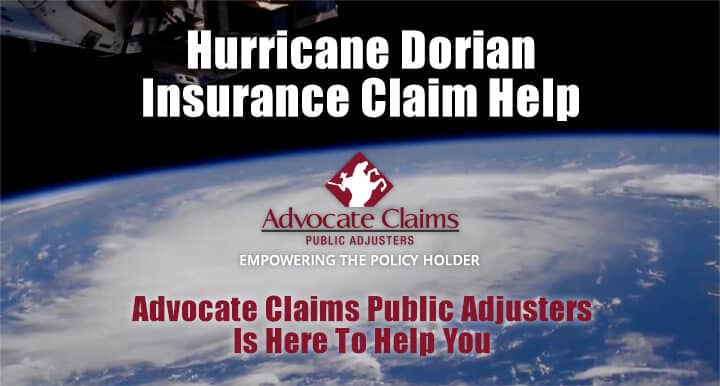 Hurricane Dorian Insurance Claim Expert Advice
Be Safe – Be Proactive – Be Patient
Be Safe
Dear Floridians before Hurricane Dorian comes ashore it is time to take all the necessary precautions to keep your family, elderly, and pets safe from the pending storm.
Stock up on your emergency supplies as water, food, medicines, pet food, batteries, flash lights, and first aid kit to maintain the well-being and safely of yourself and your family for at least seven days.
Protect your home by installing hurricane shutters, removing outside furniture and items from around the outside of your home that can become flying debris.
Following the storm make sure you be careful and watch out for downed electric lines, deep water, construction debris, nails, broken glass, and snakes – & other critters before making any temporary repairs.
Be Proactive
If you are considering that if you have a lot of Hurricane Dorian Storm damage? That you will be making a Hurricane insurance claim?
Check your Hurricane Insurance Coverage, and your flood insurance coverage to see what dollar amount is your deductible? This will help you decide if it is worth making an insurance claim?
Do a home inventory and be proactive by taking photos or videos of your home, condominium, and building before Hurricane Dorian hits Florida.

Now is the time to go outside photo your roof and all four sides of your home. Also photo or video all four corners of each room in your home too! Then make sure you photograph or video all your personal property, such as furniture, beds, TV's, clothing, shoes, etc.

As they say a picture is worth a thousand words? Well, a picture may be worth thousands of dollars too! Insurance Companies generally do not take peoples word for the condition of your roof or home prior to the Hurricane damages? Having proof of the condition of your home prior to the hurricane is very valuable.

Make ONLY Temporary Repairs If your home, condominium or building sustained Hurricane Dorian property damage you will want to be proactive to try to protect your property from further damages. You may need to get the water out of your home, or tarp your roof as a temporary measure to keep more water out of your home. By getting the water out of your home as soon as possible you will be helping to avoid more water damage to your home from happening and the potential for mold to start to grow.
Most insurance policies require that you try to mitigate damages. This means to make ONLY temporary repair like tarps, or patching a roof, or getting the water out of your home.
This does not mean replacing your roof, tearing out carpets, tearing out drywall until after the insurance adjuster has inspected your home! I would recommend that you do not remove any items from your home until you get a written statement or estimate from your insurance company agreeing to pay for any items you wish to remove from your home! The adjuster who inspects your home usually does NOT Work for your insurance company! They are outsourced to work your claim and the outsourced adjuster has no authority to make any claim decisions!
Be Patient
Florida law allows insurance companies to take 90 days to pay your insurance claim. Even though an insurance company may mail you the Homeowners Claims Bill of Rights. See below is the partial bill of rights.
The Homeowner Claims Bill of Rights Notice to Policyholders:
The policyholder has a right to:
Receive acknowledgement of their claim within 14 days after the claim was communicated to the insurer.
Receive communication from the insurer as to the claim being covered in full, partially covered, or denied, or a written statement that your claim is being investigated, within 30 days after the company receives the policyholders completed proof of loss form.
Subject to any dual interest noted in the policy, receive full payment of the claim, the undisputed portion of the claim, or the denial of the claim within 90 days.
Free mediation of your disputed claim, offered through the Division of Consumer Services, under most circumstances and subject to certain restrictions.
Neutral evaluation of a disputed sinkhole claim if the claim is due to sinkhole damage and is covered under the policy.
The availability of assistance with any insurance claim or questions pertaining to the handling of your claim from the Division of Consumer Services. They must provide the direct and toll free number and website of the Division on the notice.
Your insurance company more likely will delay your full insurance claim recovery until the 90 days. The amount offered at that time is often Not enough money to properly repair your home!
Accepting that initial claim settlement does not stop you from seeking more money from your insurance claim? But making big mistakes in your own handling of your own insurance claim can cost you a lot of money!
The Florida Insurance Carrier will most likely Not give you a written notice in 30 days that states what they are covering in your insurance claim!
If you want to save yourself the stress of handling your own insurance claim on probably your largest asset you own!
Steven Venook, public adjuster and president of Advocate Claims Public Adjusters has been in business since 2002, with prior experience handling hurricane claims for Hurricane Charley, Hurricane Ivan, Hurricane Jeanne, Hurricane Dennis, Hurricane Irma.
Be Nice