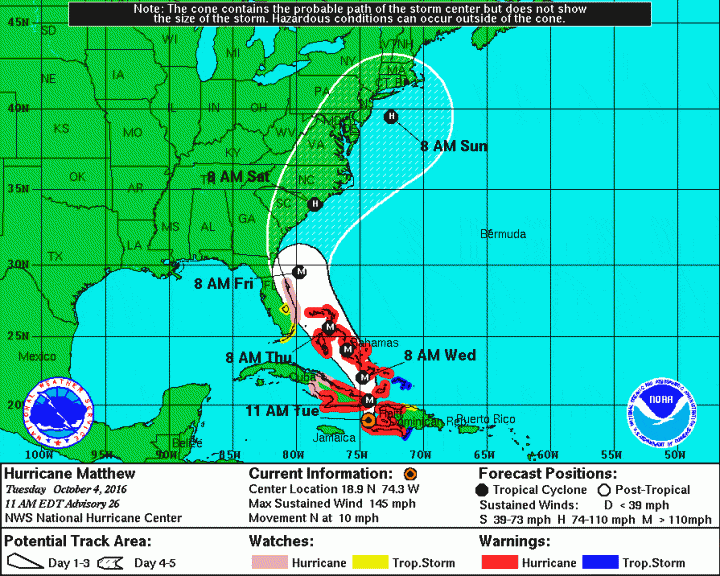 Hurricane Matthew Storms Toward Florida Public Adjuster Help for South Floridians
Image: NOAA
Hurricane Matthew, now a Category 4 hurricane, made landfall in Haiti, grew stronger and is predicted to hit Florida later this week. Florida and other Eastern coastal states are preparing for the impact of this dangerous storm and the property damage and loss heavy rains and winds of 140 mph can potentially cause to homes and properties throughout.
The biggest concern every policyholder is facing right now is whether or not their insurance provider will fulfill their promise of coverage if they experience damage from Hurricane Matthew. While you paid your premiums on time, every month, for every year, it is still highly probable that you will end up in a drawn out battle with your insurance carrier to get a fair settlement to cover your property damage.    
During a major hurricane, insurance companies are inundated with claims for property damage. Their resources will be spread thin and the claims process will be even longer than usual due to high volumes.
You can level the playing field by hiring a licensed and reputable public adjuster to stand by your side and help you through the insurance claims process.
Public Adjuster Defined
A public adjuster serves as the advocate for the policyholder – before, during and after a time of loss – unlike other adjusters who works directly for the insurance carrier and their interests.
Public adjusters obtain a license by the Florida Department of Insurance proving they have the authority to represent the policyholder's interest. And, they are required to participate in 24 hours of continuing education every two years to maintain that license.
Public adjusters carry a $50,000 surety bond
Public Adjuster's Role 
The public adjuster's role is to:
Inspect and value the property damage
Read and interpret the 30-page policy to determine actual coverages
Advise the policyholder on their best course of action
Document and build the insurance claim
Submit and manage the claim with the insurance company; and
Obtain a fair financial settlement for the policyholder
South Florida's Public Adjuster 
Steven David Venook of Advocate Claims Public Adjusters has been serving policyholders of Broward, Miami and Palm Beach counties for nearly two decades. Venook has depth of experience dealing with hurricane damage to homes and commercial properties. He's worked with many snow birds to restore their winter homes, as well as local homeowners, property owners, property managers, commercial property investors and more.
If you want a good settlement from hurricane loss, it takes patience. Don't take on the insurance carrier on your own. If you experience property damage from Hurricane Matthew, contact Steven Venook at Advocate Claims Public Adjusters at 954-369-0573. Make sure you have a licensed public adjuster with the industry knowledge and expertise in your corner!