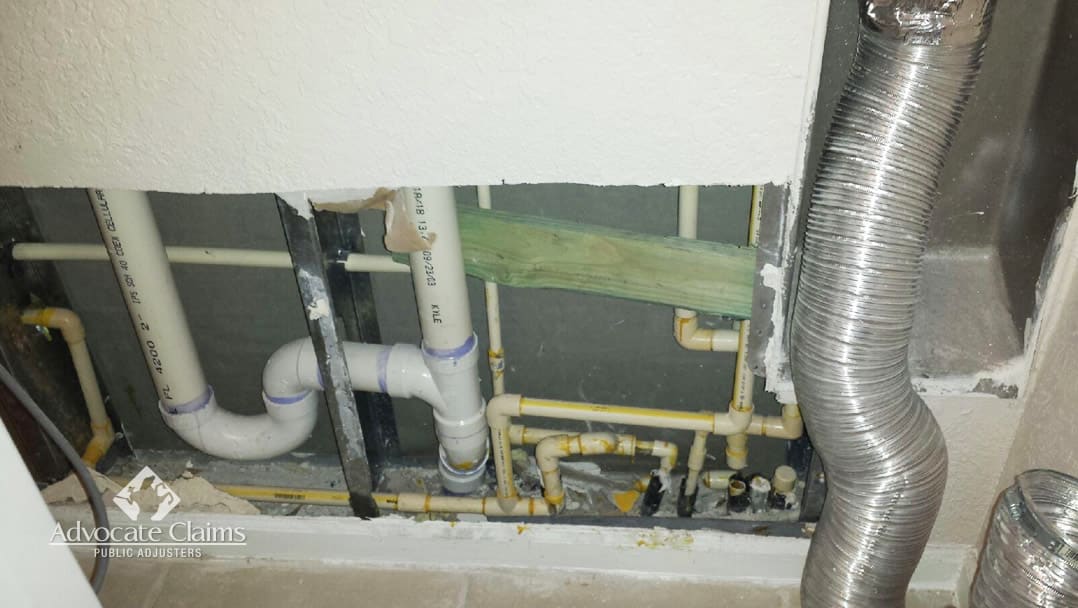 Pembroke Pines Water Damage Insurance Claim Now Water Under the Bridge
A Testimonial for Public Adjuster Insurance Settlement Resolution
Water damage is the second leading cause of property damage insurance claims in South Florida resulting from plumbing failures. Plumbing and pipe failures account for a high percentage of all homeowner insurance claims.
Mr. William Wing and his wife of Pembroke Pines in Broward County, Florida are among thousands of South Floridians who have experienced water damage to their home this year.
In June 2016, the Wing's home suffered extensive damage to their kitchen when a pipe in the interior wall under their kitchen sink ruptured and flooded their entire kitchen over the course of several hours before notice. The kitchen plumbing, interior wall and all of the lower cabinets suffered severe water damage. The Wings first called a water meditation contractor who spent less than an hour in their home, sucking out the standing water and drying the kitchen floor and cabinets with fans, before submitting a bill for $4,200 to the Wing's insurance company.
Mr. Wing went to his local hardware store where he discovered he would not only need to replace the lower bloated and damaged cabinets but the upper cabinets as well in order to match them properly. In addition, he learned that when granite countertops are removed, 90% of the time they break and he would in all likelihood need to replace all of his cabinets as well as the granite countertops throughout the kitchen. Mr. Wing was given an estimate of $20,000 to completely restore his kitchen.
Mr. Wing initially handled his insurance claim with his insurance provider himself. He was given a small unsatisfactory settlement check for only $6,710.95 after a $2,500 deductible, an amount that only covered the remediation contractor's bill with nothing left over for the work he needed done to restore his property.
Mr. Wing was referred to Steven David Venook of Advocate Claims Public Adjusters by a personal friend who had previously referred two other friends, all of whom were very satisfied with this public insurance adjuster's service. Steven Venook, a licensed public adjuster in South Florida for nearly two decades, was able to step in and negotiate with the Wing's insurance provider and substantiated the total property damage to the Wing's kitchen leading to a total settlement of $20,513, more than doubling the insurance company's original settlement amount.
Mr. Wing added, "Steven was very professional and thorough. He knew down to the paper clip what things cost, and was well versed in the entire insurance claim process. More importantly, it was obvious in the correspondence between Steven and my insurance company that they respected him and were responsive to him immediately, where they had basically just been blowing me off."
As a result of bringing in Steven Venook, the Wings were able to replace their damaged cabinets, lowers and uppers, as well as countertops, repair their plumbing and interior wall, and restore their kitchen and home back to its original state.
"I would advise others who experience water damage or any damage to their home for that matter, to call Steven first. When he says he's going to do something, he does. If he tells you he'll call you tomorrow, he calls tomorrow. I was surprised at the ease and speed of the negotiations once Steven got involved with my insurance company," Mr. Wing concluded. "It will save you time and money, and help you receive a fair settlement that covers all of your repairs."
While the Wing's water damage is now water under the bridge, statistics tell us a high percentage of homeowners will suffer the same loss occurrence in the future. With those odds, this is an important testimonial to share in advance of a burst pipe so you know who you can turn to for real help in an emergency.
If you experience water damage or another form of property damage and need representation in dealing with your insurance provider, call Florida-based Steven Venook at Advocate Claims Public Adjusters at 954-369-0573 or Contact Us.
A SPECIAL THANKS:
ACPA would like to extend a special thanks to Mr. William Wing and his wife for allowing us to share their story with you.