Tropical Storm Debbie: Residents may not Recover the Full Value of their Insured Items without the Proper Proof
We have all seen TV video of the horrible flooding and water damage caused this week throughout the Gulf Coast's northern counties and panhandle of Florida. While the wind was never quite bad enough to become a major factor in the damage, four days on end of torrential rain resulted in unprecedented flooding and loss of homes, roads and beaches.
The Bad News: According to the New York Times, "Rural Wakulla County wound up with more than 20 inches of rain, with some cities receiving 26 inches. The Sopchoppy River rose on Tuesday to 36.1 feet, a record high, from 8 feet and began to recede Wednesday. As water levels increased, at least 70 people were rescued from their homes."
The Good News: The Orlando Sentinel reported that Tropical Storm Debby brought a dramatic end to a bone-dry spell that two months ago officially covered 99.9 percent of Florida.
But, many residents who own personal property insurance are about to discover that they will never recover the full value of their personal items, such as sound and TV equipment, jewelry, antiques, business equipment and so much more. That's because most of them don't have proper proof of these item's original value to accompany their property insurance claims.
Advocate Claims Public Adjusters, a Florida company that assists people to recover the full value of their property losses, has recently allied itself with VaultBox, a company that helps people to document their personal belongings to insure completely against their loss.
In fact, Steven Venook, President of Advocate Claims has negotiated a simplified way for you to put together a personal inventory of your belongings by using a free Apple iPhone app.
Simply visit the Advocate Claims Facebook page, where you can download the free app and get a free account with Vaultbox. Start documenting your valuables today BEFORE another destructive storm, and save yourself thousands of dollars.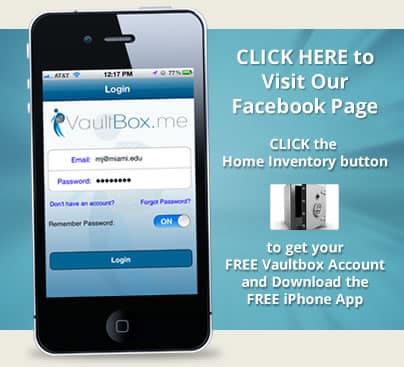 Note: If you don't own an iPhone you can also document your valuables using Vaultbox's easy to use website interface. Get a free account and try it out.
For more information about both personal and commercial property insurance coverage in Florida, and most particularly water damage, don't hesitate to contact Steven Venook, of Advocate Claims Public Adjusters.